Water can wreak havoc on your property, causing serious damage, mold, and other concerns. Sitting water is a hazard that must be addressed as soon as possible. Water extraction is essential for minimizing water damage and restoring your property. Our experienced team at OKC Restorations uses industry-leading tools and equipment for fast and efficient water extraction in OKC. Trust our team to extract standing water, remove moisture, and dry out your property.
What Are The Risks Of Standing Water?
Standing water inside your property is a problem that must be addressed immediately. The longer you allow the water to sit, the more surfaces it will penetrate, and the more likely it is that you'll be stuck with expensive permanent damage and mold issues.
Sitting water is a breeding ground for parasites, mold, and bacteria. The microorganisms that can grow in standing water are dangerous for humans and pets. In as little as 48 hours, mold will begin to grow, and you could end up with a widespread mold infestation.
Additionally, sitting water is known to attract insects and rodents. You could experience a mosquito infestation or other vermin looking for watering holes. Possums, rats, and mice gravitate toward stagnant water and can also damage your home.
Standing water is a grave danger when in your home or building. It poses many health risks and can also damage the structure of your building. This is why it is so crucial to consult water extraction professionals anytime you notice pooled water.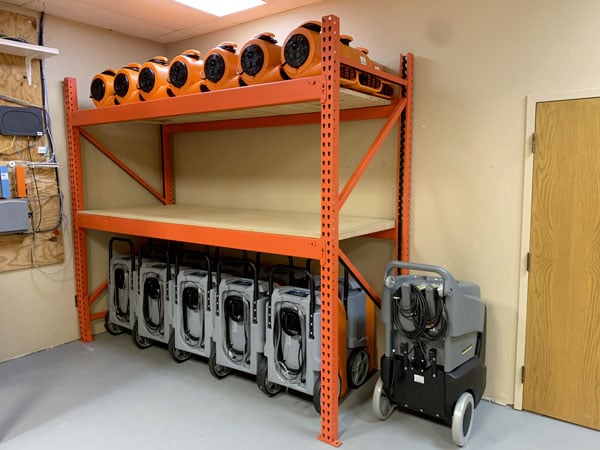 How Our Water Extraction Service Works
Water extraction involves removing as much water from your home as possible. Here's the simple process you can expect from our water extraction:
We move or raise furniture and secure your belongings to clear the area and limit the damage.
Using wet vacuums, industrial fans, pumps, and air movers, we thoroughly dry all surfaces in your building.
We pull up rugs and carpets when necessary to dry the floorboards and prevent moisture damage.
After assessing and evaluating the wet contents, we will restore everything we can.
To prevent mold growth, we clean and dehumidify your property.
Why Choose OKC Restoration?
Our water extraction process follows all best practices. We do our best to work quickly and efficiently to minimize damage and get your home or business back to its original condition as soon as possible. With our water extraction services, you can have peace of mind knowing you are getting the best quality service in the area. You can always count on our team for excellent service and unparalleled care.
Contact A Professional Water Extraction Company In OKC
Water extraction is a key intervention for preventing severe water damage. Whether it's from a storm, flood, burst pipe, or other issues, our professionals are here to help you with your water extraction needs. We offer emergency services for quick, effective water restoration and removal to protect your property. To learn more about our water extraction services or to schedule an appointment today, contact us now.
Frequently Asked Questions (FAQs)
Q. What is water extraction?
A. Water extraction is the process of taking water from any source such as removing standing water or flood control.