You wake up in the middle of the night to a "whooshing" sound in your home, only to discover that your kitchen sink pipe has burst and there is water streaming throughout the house.  You venture into the restroom at work, only to discover the toilet overflowing at a rapid rate.  Imagine in the middle of a rainstorm, the roof of your house fails, and rain comes pouring inside or you walk downstairs into your basement only to find a foot of standing water.  Anyone of these catastrophes can strike unexpectedly at any time, and these situations require emergency assistance.
This is why our team at OKC Restorations is equipped to handle all sorts of water damage emergencies, be it residential or commercial water damage issues. You can count on us within the Oklahoma City Metro area to efficiently tackle water damage issues.
Why Choose OKC Restorations For Emergency Water Damage Needs?
At Oklahoma City Restorations, we can help! We know how to treat your home or business with special care. Since we specialize in emergency water damage restoration, we are available in the middle of the night or during a busy workday. Time is critical when dealing with water damage, so our technicians will be dispatched to your home or place of business to stop the source of the water flow. Once the water has been stopped, we can assess the situation and any damages and begin work immediately.
We know that helping you save those items that mean the most to you, like clothing, furniture, important documents, and family photos, is paramount, as is the health and safety of your family.
To ensure the fastest solution, we use our powerful water extractors and pumps to suck up any excess water to eliminate any invitation to mold and mildew.
We quickly remove carpeting and dry the underlying floor completely, and in some cases, the carpet can be thoroughly dried and replaced as if nothing had happened with expert water mitigation services!
We enlist the most advanced dehumidifiers and drying equipment, and we will disinfect and clean the damaged area to inhibit the growth of mold and other air-borne contaminants.
Our team will also restore your appliances and electronic devices to their original, pre-damaged state whenever possible and return them to their proper places in the final clean-up stages.
We know that the entire process can be stressful, so we will work with you to get the situation calmly under control and get right to work. Our qualified technicians will keep you informed every step of the way.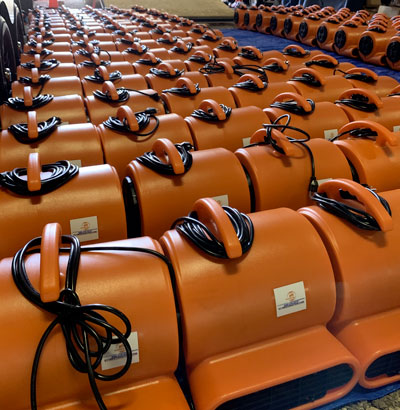 Contact The Best Emergency Water Damage Restoration Company In OKC
At Oklahoma City Restorations, we know that emergencies can occur any time, day or night—that's why they are called emergencies! Our professional team quickly responds to your call, 24 hours a day, seven days a week. We proudly service Oklahoma City and surrounding areas, so remember, no emergency is too big for Oklahoma City Restorations! Contact Us Today for any and every emergency water damage needs.
Frequently Asked Questions (FAQs)