OKC Restorations can't do much to stop a storm, but once it passes, no matter where you are, we will be there to help you pick up the pieces and rebuild. We know that rebuilding after a storm takes a ton of effort and time. There is much to be done, from sorting out the debris to determining the extent of the damage. But you don't have to do it alone. Our team of on-site restoration experts can help you take care of everything, including filing your insurance claims.
Like a storm that knows no bounds, our storm damage restoration service knows no restrictions. We go where the story goes. We will be there whether you are in Louisiana, Florida, Missouri, or Tennessee. Our dedicated team of storm damage restoration experts can help you pick up the pieces and get started on your restoration journey. OKC Restorations is also certified by the IIRC, licensed, bonded, and insured. We also work closely with your insurance company to complete your repairs as quickly as possible. We know the storm has taken a toll on you. Let us help.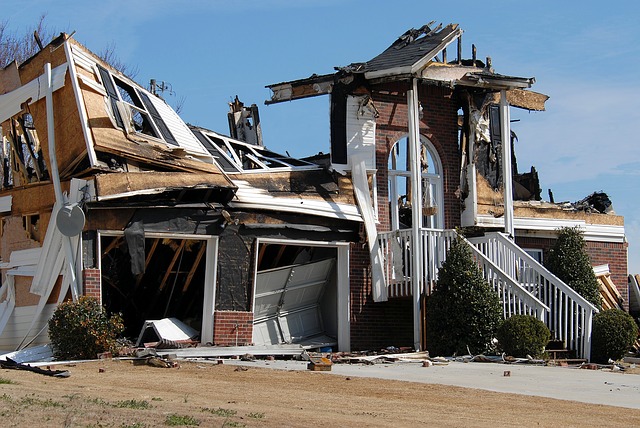 Our Storm Damage Restoration Services In OKC Include
OKC Restorations understands how devastating it can be for homeowners to see their homes ravaged by the storm. And in most cases, storm damage leads to water damage and fire damage and can ruin your foundation. Combining our techniques with the latest technologies ensures that your house receives the utmost care. If you want to know more about our services, just look into our services.
1. Residential Storm Damage Restoration
Did the heavy wind blow off your back porch? Or was the storm so severe that it damaged your home from a fallen tree? Due to the geography and climate of Oklahoma, we do see frequent storms like thunderstorms in this area. Massive storms like Tornadoes, Hurricanes, Lightning, Hail, and Ice damage can bring chaos to your home. However, we, OKC Restorations, can 100% restore any kind of residential property damage caused by the storm. Our team works swiftly and with attention to detail to handle–
Roof repair and replacement

Siding damage repair

Window board-up and replacement

Interior cleanup and restoration

Tree removal
Don't worry; our residential storm damage restoration service in Oklahoma is not limited to these. From assessing the damage and cleaning the property to restoring your home to pre-loss condition, we stick by you until you are fully satisfied.   
Let's backtrack a bit–since Oklahoma has frequent storm damage, your home can be giving you minor signs of storm damage that you can fix right away! Here are those signs–
Your home has loose shingles or granules

There's unevenness or crumbling with roof cement

You hear an unusual dripping sound

There's discoloration on the walls and ceiling

Frequent bursting pipe due to drops in temperature during winter storms

Broken window seals
So, act now if your property experiences storm damage! Call OKC Restorations for residential storm damage restoration service in OKC right now!
2. Restoration From Rooftops To The Basement
Storm restoration can tax many homeowners, even more so for new homeowners who have just moved into a stormy region. But with OKC Restorations on your team, you won't have to worry about anything. At OKC Restorations, we begin with damage assessment. Our team of experts visits the site and takes note of damages that need immediate attention.
We then check every corner of your house, from the rooftops to the basement, and evaluate the extent of the damage. Roof damage, structural damage, foundation problems, and water damage, our team of experts knows where to look for damages of all kinds. The time for the assessment depends on the size of the property. Once the assessment is complete, we file a damage assessment report and discuss how to repair the problems.
Best Storm Damage Restoration Company In OKC
Unlike some other restoration companies, OKC Restorations focuses on you. We want to know what you think about our solutions and ideas. We don't like surprising our clients and want you to participate in the process. Our services are not limited to damage restoration. We also work with insurance companies to help you complete the paperwork and file a claim. OKC Restorations goes above and beyond our call of duty to care for our clients and their homes. We are also certified by IIRC and have all the legal paperwork for restoring your home.
Safest Hands In The Business
After a storm, your house desperately needs a safe pair of hands to restrict the damage. And at OKC Restorations, that is exactly what you will find. Our restoration techniques are built on years of experience restoring houses ravaged by storms. Combining our processes with the latest technologies in the market, we ensure your home gets the care it deserves. We are also well-versed in each state's building codes and statutory requirements. OKC Restorations has been helping homeowners restore homes damaged by storms for years. We know what it takes to finish the job right the first time.
We Go Where The Storm Goes
Home restoration companies specializing in storm damage aren't exactly a dime a dozen. And of the companies that can do a good job, most are limited within a local region or state. But with OKC Restorations, you will face no such restorations. We go where the storm goes. It doesn't matter where you are. From coast to coast, our team of experts can be at your disposal in hours or days. We know how important it is to help each other during a storm.
Quick And Efficient Storm Damage Restoration
Many restoration companies take days to file a damage restoration report only to realize that the tiny crack in the basement has aggravated a hole and the water is ruining your property. Home restoration problems tend to glow with time. So, at OKC Restorations, we prioritize limiting the extent of the damage before anything else. If anything needs immediate attention, we repair it on the spot. We know how eager you are to get back into your home. While storm damage restoration takes time, we try to get things done as quickly and as efficiently as possible. But that doesn't include cutting corners.
Contact OKC Restorations Today!
Do not worry if you are affected by storm damage in the OKC location; just contact OKC Restorations, and we will be there in no time! Our services are not only inclusive of storm damage restoration but also include mold remediation, water mitigation, water extraction, and more.
Frequently Asked Questions (FAQs)
Q. What should I do after a storm damage?
A. Contact your insurance company as soon as possible and reach out to a reputable restoration company to begin assessing the damages to your home as well as the scope of work needed to remediate the situation. If water is involved, it is very time sensitive as water can cause more damage the longer it sits.