There can be nothing worse than seeing everything you have worked for all your life disappear into a single cloud of smoke. While there is no silver lining to a fire disaster, there can be a saving grace. Fire restoration focuses on restoring the property and personal belongings that are damaged during a fire. The goal is to salvage everything that is redeemable and get rid of things that are not. Since fire restoration needs to happen fast, you want a company that can be on-site at a moment's notice. OKC Restorations specializes in quick, effective, and efficient fire restorations. And since we are local to Oklahoma City, we are always within reach.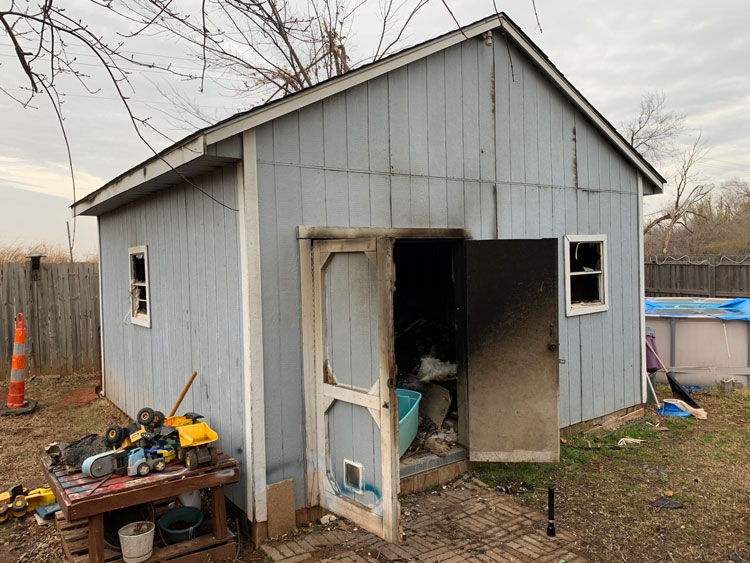 Why Do You Need To Act Quickly For Fire Damage?
Fire restoration needs to happen fast. More often than not, the leftovers after a fire can damage personal belongings and can even ignite a new fire. By clearing out the soot, we make sure that there is no possibility of accidental ignition. But the advantages don't stop there. Here are a few more reasons why you need to initiate fire restoration immediately after the fire is under control:
Structural Damage: If left untended, buildings ravaged by fire suffer from structural damage and possible decay. This can also result in water damage, mold growth, and several other problems. When left alone, these problems can potentially ruin the building's structure to the point of demolition. Fire restoration helps prevent further issues by recognizing possible future issues and dealing with them quickly.
Soot: Soot starts settling down once the fire is extinguished. When left on its own, soot can cause permanent discoloration of your belongings to a point where even professionals cannot remove them. There is a small window of opportunity between the time when the fire is extinguished and when the soot starts settling in. During this window, professional fire restoration companies like OKC Restorations can remove the soot altogether. All you need to do is act fast.
Pressure Buildup: A massive amount of smoke permeates the air once the fire is extinguished. It builds up pressure, especially in well-insulated buildings. The results are expanded structures, blown-out windows, and upheaved roofs. Fire restoration helps to alleviate the stress caused by smoke by clearing out your vents.
Byproducts Of Fire: A fire leaves you with so much more than just a damaged house. From soot to smoke, the byproducts of fire are equally as devastating as the fire itself. Since each of these byproducts are high in acidity, you need to act swiftly. Professional fire restorers are well-equipped to take care of all the chemical byproducts left by a fire. When these chemicals and heavy metals are left to their own devices, they result in inhospitable environments.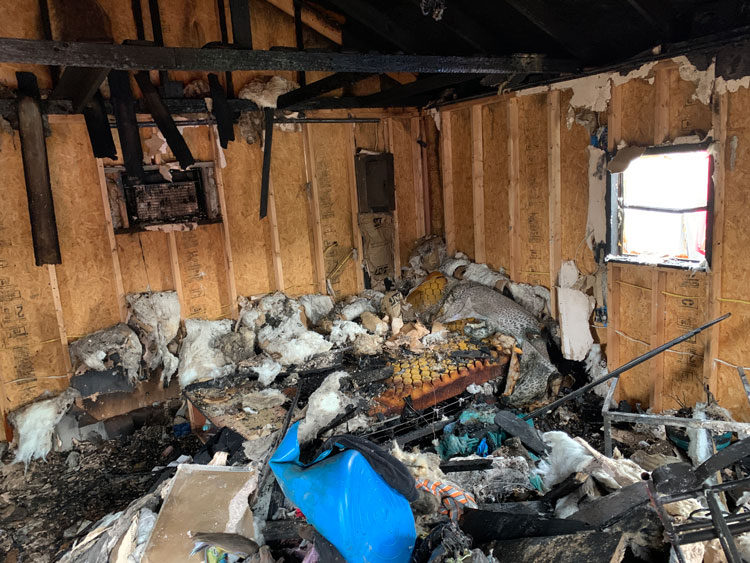 Potential Sources For Fire Damage
Fire can cause massive destruction on your commercial or residential property. Your belongings and home are not only damaged from the flames but also from smoke/soot/water/chemicals that firefighters use to put out the fire. Here are the major sources of fire damage that we most commonly encounter–
Electrical Malfunctions –

Sometimes faulty wiring, overloaded outlets, damaged electrical cords, and other electrical malfunctions cause fire.

Cooking Accidents –

Unattended cooking, grease fires, and other cooking-related accidents cause home fires.

Heating Equipment –

Heating equipment like space heaters, furnaces, and chimneys can also ignite if you do not maintain them properly. For instance, after using these equipment if you have the habit of leaving them on without unplugging them then there's a high probability of causing short circuits and then fire.

Smoking Materials –

Similarly, smoking materials, for instance, cigarettes, cigars, and pipes can easily cause a fire especially if you do not put the fire out and just dispose of them haphazardly. 

Wildfires –

Due to increasing global warming, wildfires are also an increasing cause of fire.
No matter the cause, the damage caused by fire can be extensive and challenging to repair. However, our team of experts can help. So, call OKC Restorations for fire damage restoration in Oklahoma City!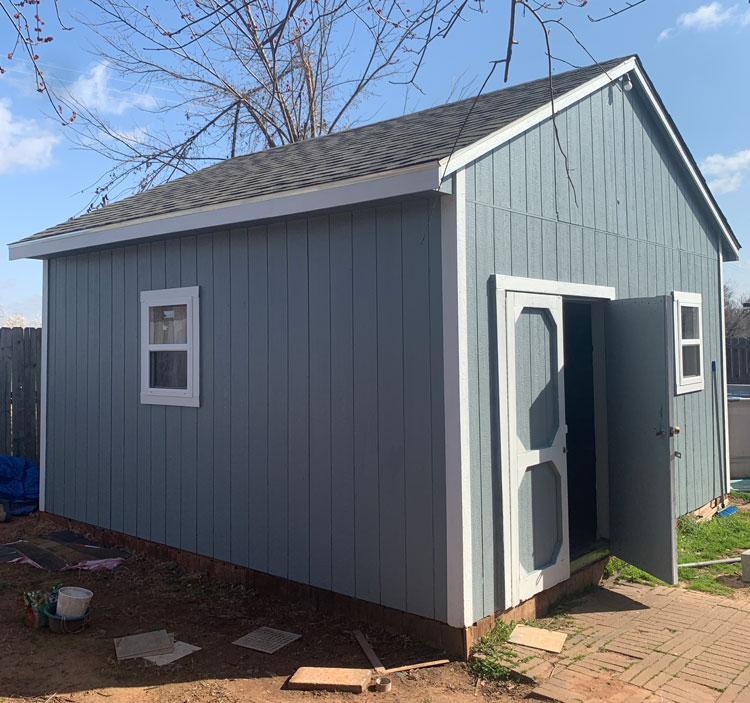 Our Fire Damage Restoration Process
Damage Assessment: When we first arrive at the scene, our team quickly assesses the potential damage. Since no two sites are the same, each incident needs careful examination. Once the initial assessment is completed, our team will develop an initial plan for damage control.
Securing The Site: Safety takes precedence. After the initial plans are drawn, our team will secure the area by building temporary fences, temporary board, and roof cover-ups and bracing where needed.
Water Extraction: You need to get rid of the water as soon as the fire is put out. Water can weaken the structure and is an ideal place for mold growth. Our team will work quickly to dry the building with water extraction and prevent further damage.
Debris Removal: When everything is dry, we can get along with the actual restoration process. Our team will scan through the debris and remove unsalvageable items. We will salvage anything that can be restored.
Clearing Soot And Smoke: Soot and smoke can damage your belongings in places where the fire failed. Since soot and smoke are acidic, they do more damage to your personal belongings and the building's structure. Our team will also work on clearing any foul orders left by the fire.
Repairs And Restoration: At OKC restorations, we understand that you want your establishment back in tip-top shape in the least amount of time. Our teams move fast, and once everything is taken care of, we start with the repairs and restoration. Our teams are well-equipped and experienced in everything from commercial dame restoration construction to plumbing, carpentry, and wiring.
Renovation: While restoration is often the answer to general fires, some establishments need a complete renovation. But even if things can be restored, a fire can be a good warning sign for renovation. From upgrading your existing space to adding a new fire sprinkler system, there is more than one way to make sure that you prevent similar accidents in the future.
Smoke Damage Restoration 
Even after the flames are extinguished, smoke damage can lead to more serious problems. The pungent odor, stained surfaces, and respiratory issues are just a few of the issues homeowners may face. When it comes to removing smoke damage, Water/household cleaner (1 cup) and Trisodium Phosphate (4 to 6 tablespoons) is the best thing for fire damage cleaning. A cleaning solution made with water and Trisodium Phosphate can perform rigorous cleaning if the charring isn't very deep. This is a hazardous cleaning solution, so taking precautions is mandatory.
In OKC Restorations, with our smoke damage restoration service, we offer–
Inspection and initial assessment

Clean and remove soot residues

Deodorizing and sanitizing affected areas after damage cleanup
How to Clean Smoke Damage?
You can clean smoke damage from any surface with the help of mild soap and detergent. You can also use trisodium phosphate with water, surface cleaner, and chlorine to clean the smoke. Make sure you are wearing rubber gloves, and don't forget to rinse and dry the surface immediately after cleaning.
Fire Damage Restoration Cost In OKC
Numerous factors come into play in calculating home fire costs for homeowners, including property size and extent of damage from the fire. Understanding every facet can help you assess fire damage repair costs and create an accurate budget for your home. As you go through your cleanup and home restoration, costs may drastically rise, especially if damage has been extensive. You are likely to pay more if a larger portion of your home has been damaged compared to a fire that affected just one or two rooms. For instance, homeowners insurance will likely not cover repair and recovery costs if you start a fire on purpose and it gets out of control and damages your home.
A typical homeowner or business owner can expect to pay anywhere from $800 to $93,000 for a fire damage repair. Emergency water and fire damage repair costs will vary from one repair company to the next. Fire Damage Restoration in OKC typically costs between $200-$1,000 but varies depending on the scope of the damage and materials.
Odor removal and chemical pollution can add $1,000 to $3,000 to your overall restoration bill. Cleanup and repair costs can increase significantly if the damage is extensive. When cleaning up and rebuilding your home, costs may increase drastically, particularly if extensive damage has been done. The more damage there is, the higher your cost to rebuild your home will be. Rebuilding in the aftermath of a fire is expensive, as damages may have occurred to various structural components.
If you require fire restoration services in Oklahoma City, remember OKC Restorations. We are local to the city and care about it as much as you do. Our teams are available around the clock, and our response times are best in Oklahoma.
Why Choose OKC Restorations?
OKC Restorations is here for you around the clock. When disaster strikes, quick action is vital to limit the damage and enable faster recovery. Just imagine a scenario – you're out of town, and you get a call that your home has experienced a fire – don't let the situation escalate. Call us for all kinds of emergency fire, smoke, and soot damage restoration services in Oklahoma City. We offer–
Fire & Smoke Damage Restoration

– Our experts will eliminate fire and smoke odors and clean all impacted surfaces to restore your property to its pre-damaged state.

Structural Repair & Rebuilding

– Our skilled technicians will repair any structural damage and fully restore your home or business, ensuring its safety and stability.

Contents Cleaning & Restoration

– We'll salvage and restore as many of your belongings as possible, employing advanced cleaning techniques and equipment.
You can trust OKC Restorations for emergencies because– 
We are available 24/7 to assist you with emergency fire, smoke, and soot damage in OKC.

Our specialists are always ready to provide on-site assessment and immediate restoration service.

We are fully equipped with state-of-the-art equipment to combat fire, smoke, and soot damage.
Call us today!
Contact A Reliable Fire Restoration Company In Oklahoma City
After a fire, the last thing you want is a fire restoration company with no idea what it is doing. At OKC Restorations, we ensure you know everything we do. And since we are local to Oklahoma City, you can count on us to do our part to make the city beautiful, which means no burnt structures. It is best to hire a reputable professional for fire damage restoration to ensure high-quality services. Contact us today to learn more!
Frequently Asked Questions (FAQs)